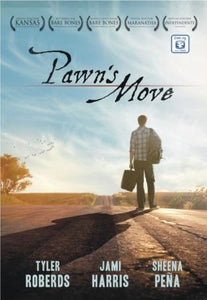 New Lower Price!

Jimmy Davis has mixed feelings when he inherits Harvey's pawn shop. He deeply misses his late mentor, but is grateful to him for leaving a 4-million dollar collectible. When Jimmy's money-hungry girlfriend pursues him, he escapes to a small town and assumes a new identity. There a pretty young woman named Lindsey captures his heart, but their secret pasts and insecurities conspire to keep them apart.

It is the story of a tragic loss, a huge gain, and a move towards the goodness of God. Having already made a splash on the film festival circuit, this multiple award-winning movie will capture the hearts of viewers of all ages on DVD too! It is very easy to see why Pawn's Move has been honored with many awards, such as all its' "BEST FAMILY FILM" Official Selections. Pawn's Move is an endearing Story of Grief, Love, and Redemption.

A Definite MUST-SEE for the whole family!!