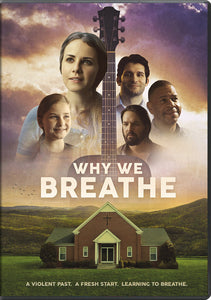 A VIOLENT PAST. A FRESH START. LEARNING TO BREATHE.
Life in Nashville for Carrie Hicks has become a marathon. Working double-shifts at the diner, then running to music gigs at bars, trying to fulfill her elusive dream of becoming a singer-songwriter. She's also raising school-aged daughter Emma, and supporting Rodney, her deadbeat boyfriend as well. But when Rodney's abuse lands him in jail and Emma in a wheelchair, Carrie makes a run for it with her daughter.


The duo attempts to start again in the tiny town of Nolensville, with help from Carrie's Uncle Earl and his church-folk friends. But when Rodney comes looking for them, Carrie and Emma must find strength they never knew they had. Can they at last find peace?


"An unabashedly hopeful film, that believes in the power of hope, healing, community, and faith." - The Independent Critic
Appropriate for ages 12+
Running Time: 1 hour, 28 minutes
Starring: Alexandra Sedlak, Derrick Dee, Jason Bynum, James J. Fuertes
Producers: D. Erik Parks & Charity Spencer
Written & Directed by D. Erik Parks