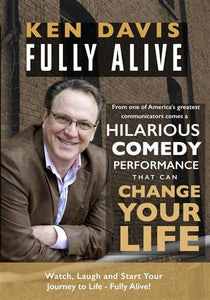 You were born to live FULLY ALIVE!

You've heard that before, yet you may feel like many other people who lead lives of quiet desperation. Somewhere along the way, the passion that once burned in their soul was smothered. Well, it's time to rekindle the flame!

With his trademark humor and powerful stories, Ken will share his own journey from lethargic resignation to a new life of adventure, spiritual renewal, and health. You will see the snapshot that started it all, share in the three hours of terror that changed Ken forever, and meet a living fossil on a bicycle. You'll laugh and be inspired to live in the power of Christ's resurrection. The path to that new life is right here, just waiting for you to take the first step. Join Ken and start living Fully Alive--today!

This powerful, life-changing message is Ken's magnum opus -- the passionate culmination of decades in ministry. It is also the beginning of a movement that he hopes will change thousands of lives -- including yours. It's also a terrific comedy event from one of the most experienced and best-loved performers in America. This is a performance you'll share and enjoy over and over again.

ABOUT KEN DAVIS:
Ken is a graduate of Oak Hills Christian College. He and his wife, Diane, live in Tennessee and have two daughters and six grandchildren. He is in constant demand as a speaker and trainer of communicators. He is an award winning author of nine books including his latest, Fully Alive. His radio show, Lighten Up, is heard on over 1200 stations around the world. Recorded at age 65, this program shows Ken living fully alive!