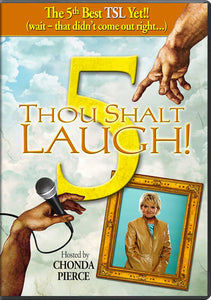 Joining other great combinations like peanut butter and jelly, Abbott and Costello, baseball and hot dogs, and of course Chihuahuas and funny hats, comes the greatest union of stars and laughs ever in Christian Comedy-- the #1 Christian comedian of the last 10 years, Chonda Pierce, hosts the newest epic in the series, unimaginatively-but-conveniently titled Thou Shalt Laugh 5!

Chonda, widely acknowledged as the "Queen Of Clean," celebrates her first TSL appearance with...

...Bone Hampton, TSL's most requested "return visitor," who had been touring with Chonda, and finally made it back to TSL. Gilbert Esquivel previously debuted his observations (in TSL-1) on race, church, and growing up in a Hispanic ghetto. He's performed all over the country and discovered "Mexicans are everywhere!"

And from the Great Snowy North, Canadian Leland Klassen brings his unique perspective from living next-door to the world's greatest, loudest, and funniest country. And you have GOT to meet the unforgettable Daren Streblow, and his amazing friend Joey ILO—who was literally raised by clowns. Seriously. You can look it up.