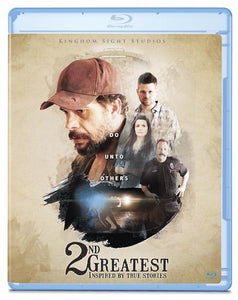 This license is for larger churches with average weekend attendance over 300.

This "2nd Greatest" Church Packet will include your choice of DVD or Blu-ray, and a printed license granting your church a one year unlimited use license. After the year ends, the disc may be placed in your library for "Home Use" only.


At checkout, enter your preference of DVD or Blu-ray in the comments box. (NOTE: churches under 300 click
HERE
.)
Shopkeepers, town council, the mayor, the police, everybody is frustrated about a run-down neighborhood, and the aggressive behavior of one particular homeless man. A young new pastor comes to town, and can't shake the feeling that he and his church can bring healing and help to a divided town. This stirring Christian drama was inspired by actual events in scenic Golden, Colorado, where the "Golden Rule" changed a community forever.
Appropriate for ages 12+
Running Time: 127 minutes
Starring: Heath Arthur, Jude Moran, Billy Joe Patton, Scott Piper
Producers: Dan Thoemke, Mike Flack, Nathan Blair
Written & Directed by Nathan Blair