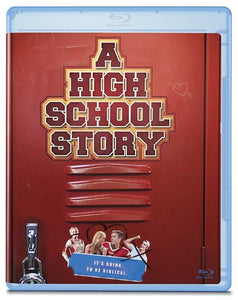 As the new school year begins at Faith High, the football team looks set to win, and the cheerleaders are ready to jump for joy. But wait—turns out there are kids at the school who don't play football or shake pom-poms. And life at high school can almost be as dramatic as, say David-v-Goliath, Esther-v-Haman, Paper-v-Rock-v-Scissors. So the starting quarterback gets hurt, the new kid struggles to fit in, the freshmen cower in fear, the principal is getting punk'd, and somebody is putting the "I" in "Cheerleader Team." Uh-oh.
Appropriate for ages 12+
Running Time: 107 minutes
Also available
on Blu-ray
.
Starring: Luke Bote, Hannah Thomas, Ashley Wright, Nate Flack, Makenzie Conter, Caleb Flack, Jamall Curry, Heath Arthur
Producers: Mike Flack, Mariah Wood, Caleb Flack
Written & Directed by Nathan Blair