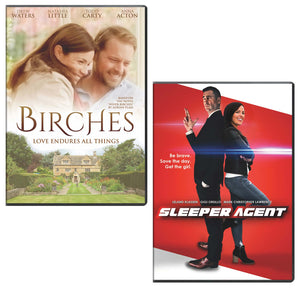 Get both movies for 17% OFF!
Birches - DVD
David Turner is a Christian author and speaker who tragically loses his wife, Jessica. They were deeply in love, and his world implodes into a struggle to understand why she died. Where does a loving God fit into this terrible circumstance?

Through Jessica's foresight, David finds himself at an invitation-only weekend in the scenic British countryside. There he is surrounded by six old friends from their former church youth group. What transpires will define the rest of his life.

Will David once again become a "swinger of birches?"

Based on the best-selling novel "Silver Birches" by British author Adrian Plass. Starring Drew Waters, Natasha Little, Todd Carty, and Anna Acton.

Running time: 1 hr, 29 min.
Sleeper Agent - DVD
Be brave. Save the day. Get the girl. Pretty simple, right? If you really are an embedded generational agent. Leland Klassen (Extraordinary, Altar Ego) stars as Walter Mitt--um, Walter Goertzen, who fell in love with the idea of espionage as a kid. But grownup Walter works in a warehouse, not lunching with femme fatales along the Champs-Élysées.
Things are about to change.

Also starring Gigi Orsillo, Mark Christopher Lawrence, Matt Falk, Heath Arthur. 
Running time: 1 hr, 43 min.