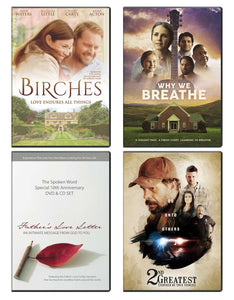 Get all 4 items for 38% OFF!
Birches - DVD
David Turner is a Christian author and speaker who tragically loses his wife, Jessica. They were deeply in love, and his world implodes into a struggle to understand why she died. Where does a loving God fit into this terrible circumstance? Through Jessica's foresight, David finds himself at an invitation-only weekend in the scenic British countryside. There he is surrounded by six old friends from their former church youth group. What transpires will define the rest of his life. Will David once again become a "swinger of birches?"

Based on the best-selling novel "Silver Birches" by British author Adrian Plass. Starring Drew Waters, Natasha Little, Todd Carty, and Anna Acton.

Why We Breathe - DVD
Life in Nashville for Carrie Hicks has become a marathon. Working double-shifts at the diner, then running to music gigs at bars, trying to fulfill her elusive dream of becoming a singer-songwriter. She's also raising school-aged daughter Emma, and supporting Rodney, her deadbeat boyfriend as well. But when Rodney's abuse lands him in jail and Emma in a wheelchair, Carrie makes a run for it with her daughter.

The duo attempts to start again in the tiny town of Nolensville, with help from Carrie's Uncle Earl and his church-folk friends. But when Rodney comes looking for them, Carrie and Emma must find strength they never knew they had. Can they at last find peace?

"An unabashedly hopeful film, that believes in the power of hope, healing, community, and faith." - The Independent Critic
2nd Greatest - DVD
Shopkeepers, town council, the mayor, the police and everybody is frustrated about a run-down neighborhood, and the aggressive behavior of one particular homeless man. A young new pastor comes to town, and can't shake the feeling that he and his church can bring healing and help to a divided town. This stirring Christian drama was inspired by actual events in scenic Golden, Colorado, where the "Golden Rule" changed a community forever.

Starring: Heath Arthur, Jude Moran, Billy Joe Patton, Scott Piper
Producers: Dan Thoemke, Mike Flack, Nathan Blair
Written & Directed by Nathan Blair


Father's Love Letter: Special Edition DVD + CD
What began as a simple sermon illustration is now an international best-seller, translated into 99 languages and seen by millions of people around the world via the internet. Father's Love Letter is a rich expression of the love of God, a moving and memorable video for all ages. Written by Canadian Barry Adams for a men's retreat in 1999, Father's Love Letter is a compilation of Bible verses, presented in the form of a love letter. Each line is paraphrased, with the message and meaning of scripture carefully and thoughtfully summarized in a new format. The result is a strikingly fresh understanding of the Father heart of God.

Thousands of people all over the world have written the author to report a life-changing encounter with God while watching Father's Love Letter, and it has been downloaded in 99 different languages to date from people in almost every nation. This remarkable letter has even been printed in newspapers internationally as a full-page ad, and in at least one country a printed version was delivered to every home.

This DVD also features an extensive library of other videos that further explore the subject of the Father's great love. This Special 10th Anniversary DVD & CD Set features the narration version of the Father's Love Letter in both DVD video and CD audio formats, along with a collection of other inspirational recordings all created to draw you closer to the Father's heart.

DVD includes: Father's Love Letter Narration [6:08 minutes] Father's Love Letter Extended Narration [9:58 minutes] Father's Love Letter Instrumental Version [9:58 minutes] Father Loves You [5:32 minutes] My True Father Prayer [6:53 minutes] The Journey Home to Love [28:52 minutes] Understanding Our Need For Love [17:00 minutes] The Story Behind Father's Love Letter [8:43 minutes].

Audio CD includes: Father's Love Letter Narration [6:15 minutes] My True Father Prayer [7:39 minutes] Father Loves You [5:22 minutes] Father's Love Letter Music Soundtrack [41:16 minutes].

Outstanding as a gift of encouragement for someone or as a rich devotional tool for personal use, this remarkable production will leave a lasting impression. *Includes Public Performance Rights for use in a public worship setting. Length: over 90 minutes (video), and over 60 minutes (audio) DVD Region 0 (All regions)