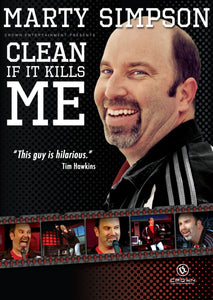 Marty Simpson is a happy husband, father, and comedian. He loves his wife and kids. He tells them before every athletic contest, "Remember, no matter what happens in the game tonight, Daddy loves you, win or tie." Yes, 
Marty's "love language" is sarcasm.
Marty's act is filled with actual events from his life. Everything he says is a true story based on something that either happened to him, his kids, or that he made up entirely. (Do we need to point out that this is sarcasm? Wow, even the parantheticals have sarcasm.)  
Let's talk about Marty!
Marty Simpson doesn't look like an All-American Football Player, a sports radio talk show host, or a national touring comedian. Let's be honest, he looks like Dr. Phil's heavier brother. But believe it or not, Marty was the first South Carolinian to be named a USA Today All-American Football Player. 
He also doesn't look like he would have an amazingly beautiful wife which he's been happily married to for over 20 years, but that's true too! The rest of this bio may make it sound like Marty is a "super-macho" type whose comedy may only work for athletically minded folks, but that couldn't be further from the truth. Marty's comedy is rooted in his life experiences which include antics with his wife, children and golden doodles, as well as well as the occasional sports story. (But keep in mind, when Marty played football, he wasn't a real player, he was just the kicker!)