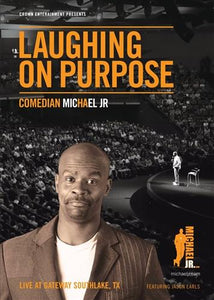 Filmed at Gateway Church in Southlake, TX, LAUGHING ON PURPOSE is the outstanding debut comedy DVD from dead-pan genius Michael Jr.

Michael Jr. has been seen many times on network television, including on the Tonight Show with Jay Leno, Jimmy Kimmel Live and Comedy Central – always offering family-friendly, Christ-honoring comedy. Lately, Michael has focused his efforts on taking his comedy to prisons, shelters and the homeless -- those who really need to experience the healing gifts of laughter and joy.

Laughing on Purpose is a standout comedy DVD – a significant new title from a major new Christian comedian. His laid-back style and family-focused humor is good enough for Las Vegas and clean enough for church. He will have you laughing until your face hurts.