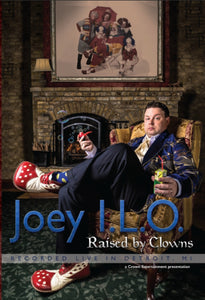 You've never heard a story like this before!
Joey I.L.O. was truly Raised by Clowns. His life memories fuel this dynamic stan-up routine. Recorded live on December 31, 2012 in Detroit, MI, Joey's jokes and songs will entertain the entire family – without the scary clown makeup!
Joey has been on Thou Shalt Laugh 5, NBC's Last Comic Standing, New Comedy Revolution, and has toured the country professionally since 2004. Don't miss this outradeously funny comedian that has everyone talking, and laughing! Raised by Clowns is a must-see!.