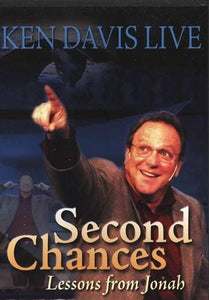 Jonah learned a few things during his Nineveh adventure -- and the most important lesson had nothing to do with the digestive habits of large fish!

This live recording is an inspiring look at the lessons learned from the story of Jonah. In Ken's unique way, he challenges us to learn to see God the way Jonah learned to see Him: as a God of second chances.

With humor and passion, Ken helps us look beyond the familiar "Jonah and the Whale" telling of the story and helps us to see a God who prefers mercy to judgment, a God who wants all of us to experience His grace -- a second chance!

ABOUT KEN DAVIS
Ken Davis is a comedian, author, broadcaster... and proud grandfather. His radio program Lighten Up! is heard on hundreds of radio stations, and his award-winning books and videos have been international best-sellers. Ken's mission is to share really important lessons while making you laugh so hard your teeth hurt.