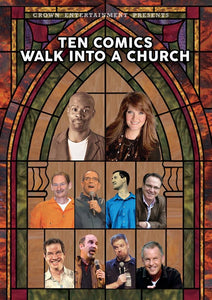 Just ten minutes each from ten different Crown Comics proves there's more than one way to get a laugh.

From the laid-back Michael Jr, to the high-octane Bob Smiley, from the ascerbic John Branyan to the plain tawkin' mama Anita Renfroe, an hour-and-a-half from this crew will leave viewers with some new favorite comedians. Trailblazing veterans Ken Davis and Kenn Kington deliver award-winning routines. Newcomers Jonnie W, Marty Simpson and Clayburn Cox prove the new generation is fully capable of bringin' down da house. And immigrant Nazareth demonstrates that nobody is more patriotic than newly-naturalized citizens.


The excerpts are from: Laughing On Purpose by Michael Jr; Sweet Laughter by Nazareth; Breaking Bob by Bob Smiley; And I Mean That In The Best Possible Way by Anita Renfroe; Long Awkward Pauses by Clayburn Cox; Fully Alive by Ken Davis; Smoking Hamsters by John Branyan; Clean If It Kills Me by Marty Simpson; Live At Franklin Theatre by Jonnie W; WOW Moments by Kenn Kington.