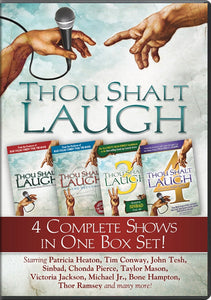 A box chock-full of standup that will make you and your family fall down laughing! Featuring comicsJeff Allen, Tim Conway, Michael Jr, Sinbad, Teresa Roberts Logan, Taylor Mason, Lisa Alvarado, and many others, this collection offers hours of nonstop entertainment from the country's funniest Christian comedians as they share hilarious observations of everyday life. Four comedy specials, approximately 6 hours total. The 2-disc, 4-episode set includes:


THOU SHALT LAUGH. Side-grasping, air-gasping, flat-out fun for the entire family! From the producer of A Walk to Remember and The Last of the Mohicans, this hilarious collection of Christian comedians was filmed in Hollywood before a live audience of 5,000 with Patricia Heaton, Thor Ramsey, Taylor Mason, Jeff Allen, and many others on stage. This special edition includes over 15 minutes of bonus footage of America's funniest Christian comedians! 110 minutes.


THOU SHALT LAUGH 2: THE DUECE. Yes, clean can be funny, and this hilarious performance proves it! Recorded before a live audience, comedic genius Tim Conway; SNL alum Victoria Jackson; internationally known comics Bone Hampton, Taylor Mason, Thor Ramsey, and new kid on the block Dan Nainan, will all blow you away with their perfectly timed delivery and sidesplitting routines. Rated "G" for Great family viewing! 90 minutes.

THOU SHALT LAUGH 3. Rejoice! The folks at Thou Shalt Laugh are back with a third round of sidesplitting standup comedy . . . and they're bolder, more memorable, and funnier than ever! Hosted by family comedian superstar Sinbad, this laugh-out-loud lineup includes guest comics Taylor Mason, Thor Ramsey, Leanne Morgan, Lisa Alvarado, and Horace HB Sanders. 90 minutes.

THOU SHALT LAUGH 4. Shower your family with good clean fun! Hosted by John Tesh, the fourth edition of the best-selling Christian entertainment series features award-winning comedian/magician Dana Daniels and Luigi the Psychic Parrot; all-American immigrant Joe Wong; balding funnyman Isaac Witty; absurdity-of-life observer Rex Havens; and first-edition favorites Taylor Mason and Michael Jr.  90 minutes.