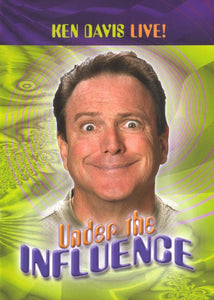 Ken Davis is "Under the Influence" -- but it is not what you think!

Filmed during two sold-out live shows, this ranks as one of Ken's best performances. His hilarious stories include: "Strawberry Underwear," the "Kansas Cow," "Hurricane Man," "The Speeding Ticket," and a whole lot more. This is a bold declaration of Ken's faith and you will be encouraged to live "under the influence". As always, the whole family will love this DVD.

ABOUT KEN DAVIS
Ken Davis is a comedian, author, broadcaster... and proud grandfather. His radio program Lighten Up! is heard on hundreds of radio stations, and his award-winning books and videos have been international best-sellers. Ken's mission is to share really important lessons while making you laugh so hard your teeth hurt.