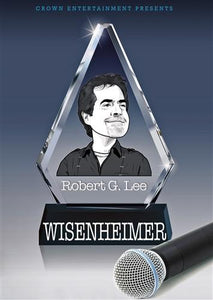 Wisenheimer n. (slang) [L. smart-icus butticus] a wiseacre or wise guy. 1. aka Robert G. Lee; 2. a person who is brashly annoying; 3. one who has disproportionately more aleck than smart 4. one who is generally un-employable; 5. a person of stunted maturity; 6. one who cracks wise; 7. title of a new stand-up comedy DVD.

Bob's stand-up has been honed over many years working to warm up TV audiences for comedy tapings in Hollywood. In his own live performance on this DVD, the subjects Bob covers are: 1. Comedy Pre-Nup, 2. Sixth Grade Teacher, 3. Public Prayer, 4. Useless Impressions, 5. This Is My Job, 6. Off The Cuff, 7. Wrong Careers, 8. Knock, Knock, 9. No We Don't!, 10. Top Ten Reasons, 11. Wicca Wedding, 12. Semantics, 13. Feng Shui, 14. Giving Blood, 15. Bible TV Themes, 16. Is Math The Only Way?, 17. Kids Today, 18. Growing Up, 19. Getting Older, 20. Geriatric Jeopardy, 21. Doctor's Visit, 22. The Procedure, 23. Swallowing A Camera, 24. Your Changing Body, 25. Game Over, 26. Therapist Wife, 27. Land Mines, 28. Romance, 29. Entertaining, 30. Communication, 31. Excuses, 32. The Fight.
Not Many Comics...

* Make the cover of The Wall Street Journal
* Have released eight clean comedy videos
* Warm up audiences for top Hollywood sitcoms
* Can perform the entire Bible in under 30 minutes
Robert also combined his Christian world view and Monty Python sensibility to write VeggieTales scripts such as Little Joe, Gideon, and Sheerluck Holmes. 

Running time: 62 minutes, plus bonus material.
NTSC, Widescreen, English.